Farm Visits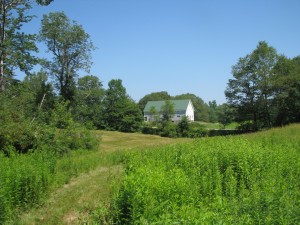 The Farm is an amazing place where children can engage in a hands-on outdoor experience that can change how they see the world and transform the way they think about their place within it. We invite you to bring your school or community group to the farm to breathe some fresh Maine air, lay in a wide grassy field, explore the wooded nature trails, pick and eat a vegetable from the garden, care for an animal, and sit around a camp fire gazing up at a sea of stars.
Whether for an afternoon, a day, or an overnight camp-out, we can work with you to plan a program and services that fit your goals.
Our on-site facilities include:
The farm and the restored farmhouse and barn
The Hilton-Winn Farm is a stunning piece of Maine property that first came under English colonial influence in 1620 through a land patent from King James 1 to the Plymouth Council for New England. The property—which grew to over 200 acres—was farmed by eight generations of Winns. Over its 400+-year history, the Hilton-Winn Farm has been a witness to the changing cultural and environmental landscape of Southern New England.   It has been used variously to cultivate many different kinds of vegetables, fruit orchards, raspberries, and blueberries, to run a logging sawmill and a blacksmithing operation, and to raise chickens and dairy cows, among other activities. The farm provides the perfect setting for children to actively connect with Maine's rich agricultural history.

The Teaching Garden
The garden at Hilton-Winn farm is primarily a teaching garden, designed to help children understand the connection of food to earth, and to better appreciate the miracle of food. Children happily water the plants, weed between the rows, and hunt for vegetables to harvest. To them, it is a great adventure, one that they greet with respect and garner self-respect in the process. It's not unusual for a child to tell us that they have never been in the garden before, let alone picked something from a garden. Many are completely unaware of where food comes from. Adults marvel at our ability to "get" kids to eat vegetables at the Farm, but really, it happens organically.
Heirloom apple orchard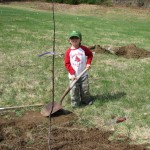 The farm is home to a young apple orchard populated with heirloom varieties that were traditionally grown in Maine. We also have a smaller peach orchard. Children helped plant the orchards and continue to nurture them. The orchards provides opportunities for children to learn about fruit tree cycles, pollination, soil science, and the challenges of protecting the trees from wildlife.
Nature trails
Visitors can walk through the wide grassy fields at the Hilton-Winn farm and observe the abundance of insect and wildlife that inhabit the farm. And, they can wander on trails through the wooded areas that border the fields. In addition, the farm is surrounded by hundreds of acres of conservation land and miles of hiking trails. Visitors can enjoy long walks along these trails that showcase a variety of coastal Maine woodland habitats.
Special programs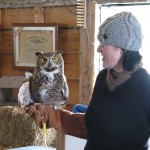 We can organize special educational programs, offered either by own volunteers or in partnership with local wildlife and environment organizations, on a range of topics including:
sustainable gardening
farm animal
wildlife
insects good and not-so-good
Maine farming history
Contact us to plan your farm visit.