Our History
The Youth Enrichment Center is a 501(c)(3) nonprofit organization dedicated to positive youth development, nature-based education, and stewardship of the unique agricultural landscape of New England. We are based in South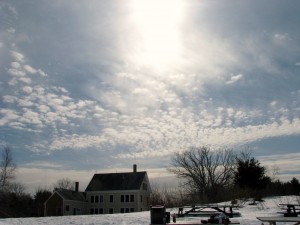 ern Maine at York County's Hilton-Winn Farm, a King's Grant farm dating back to the 1600s.
Over its 400+-year history, the Hilton-Winn Farm has been a witness to the changing cultural and environmental landscape of southern New England. Its early inhabitants were likely participants in the colonial French and Indian Wars, and since then the property has supported a range of economic activity that reflects Maine history. It has been used variously to cultivate many different kinds of vegetables, fruit orchards, raspberries, and blueberries, to run a logging sawmill and a blacksmithing operation, and to raise chickens and dairy cows, among other activities. Today, it provides the perfect setting for the Youth Enrichment Center.
Pre-European and Colonial History
The land that comprises the Hilton-Winn farm has a rich history, starting with the first known inhabitants: the Algonquian-speaking Armouchiquois tribe of Native Americans who were based in what is today Saco, Maine.
The farm's site first came under English colonial influence in 1620 through a land patent from King James 1 to the Plymouth Council for New England. It appears that English settler Edward Winn acquired a royal land grant of the property in or about 1640, and by 1710 his grandson Josiah Winn had settled 10 acres of land there. The property—which grew to over 200 acres—was farmed by eight generations of Winns, and then Clifford Hilton (Ada Winn's son) purchased the farm in the 1940s.
Recent History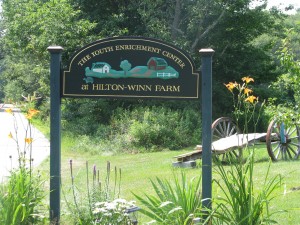 In the 1990s, as the rural qualities of southern Maine life were being threatened by rampant development, Ethel Hilton, the 9th generation of the Hilton‐Winn family, was dedicated to preserving the woodlands, wetlands, and agricultural character of this historic property for future generations to enjoy. In 1998 she donated 185 acres of the property to the York Land Trust, which now forms the Hilton‐Winn King's Grant Conservation Area.
In 2002 Youth Enrichment Center Executive Director Nancy Breen purchased the remaining central 48 acres of rolling fields and forests with one goal in mind: to establish a safe, peaceful, and fun environment for children to connect with the land, learn about the science and art of farming, and be transformed along the way.